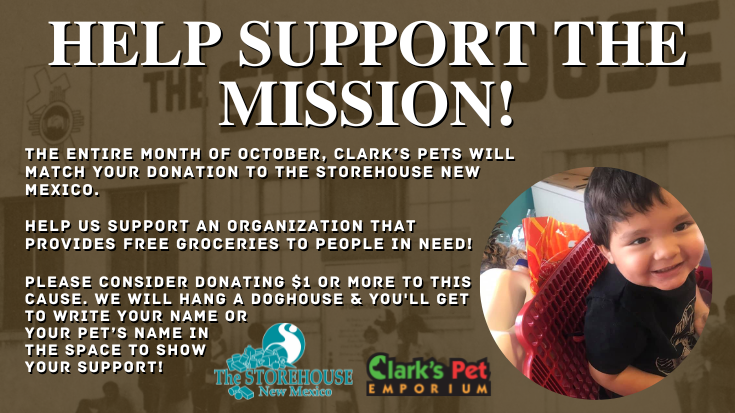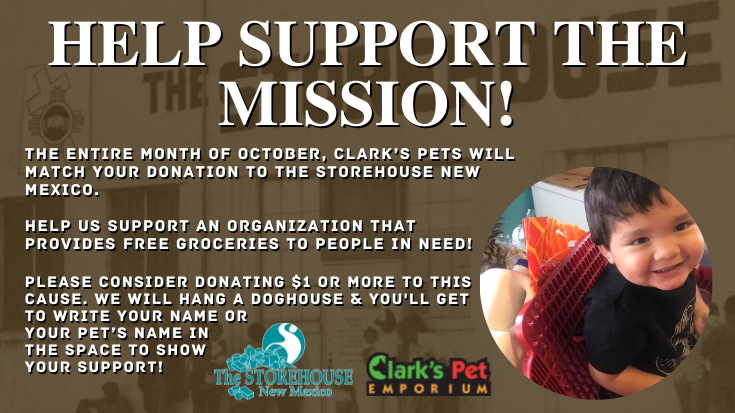 For the 50th Anniversary of Clark's Pet Emporium and during the entire month of October, Clark's Pets Gives Back & will match your donation to the The Storehouse New Mexico!
Storehouse New Mexico is a nonprofit community-based food pantry that provides free groceries to people in need. The Storehouse became a nonprofit organization in 1976 with one specific goal: to help New Mexicans solve their food insecurities regardless of race, faith, age, gender, or disability. Hunger has increased over recent years, but so has the Storehouse's reach and ability to help. The Storehouse provides nutritious food to approximately 50,000 people a year.
By visiting any one of our stores, you can donate $1 or more to the cause and Clark's Pet Emporium will match your donation! Let's help support our their mission!
Get more information about The Storehouse New Mexico: https://storehousenm.org/
Please consider donating $1 or MORE to this cause. We will hang a doghouse in our stores in yours or your pet's name as recognition that you support this cause.
See our store locations at the footer of this page! Thank you!