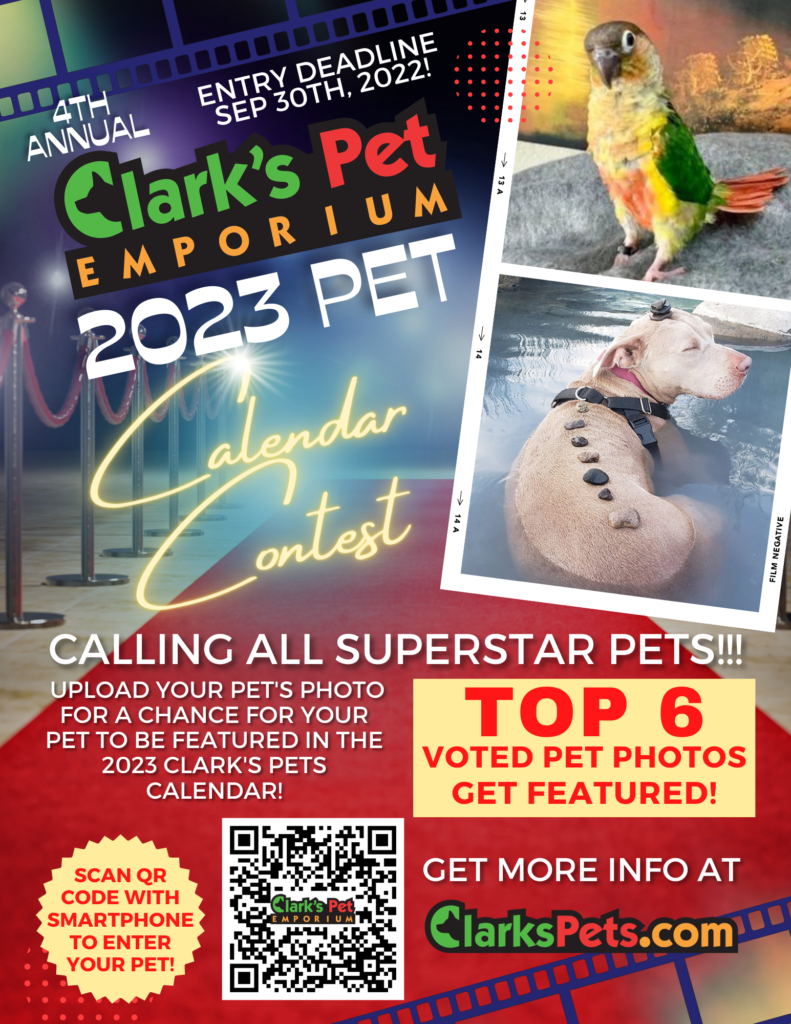 IT'S BACK for the 4th year in a row! The 2023 Pet Calendar Contest is FINALLY HERE!
We're calling all superstar pets!!! 🌟🐾🌟🐾🌟
Enter your pet in our calendar contest. Whether you have a dog, cat, bird, lizard, rabbit, gerbil, fish, horse, or even a llama, it's easy to enter! Just visit https://pollunit.com/en/polls/clarkspetscalendar to upload your pet's best photo (highest resolution) for a chance to be featured in the 2023 Calendar!!! Submissions begin September 16th, 2022 at 11 AM. Deadline to enter is September 30th, 2022 at 11:59 PM MT .
Previous calendar pet winners may enter again, but must be a different photo submitted.
Voting runs October 1st – October 15th, 2022 at 11:59 PM MT using the same link: https://pollunit.com/en/polls/clarkspetscalendar
The photos will be available to the public to vote on their favorites! The top 6 most voted on photos will be selected as well as 6 others selected by our Clark's Pet Emporium staff! Share this link with all your friends & family to vote for your pet: https://pollunit.com/en/polls/clarkspetscalendar
Good Luck! 🗳 📅